Frank's Hot Sauce Presents The Base Ball Teams 2009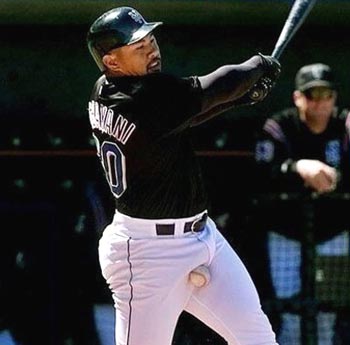 My carpal tunnel syndrome has abated... turns out it was because I did something that rhymes with "abated" a little too much. Who knew seven times a day could be harmful? I was trying to lose weight! Now that I'm healthy and frustrated, I'm back for another year of faux analysis, another year of the same joke I always make about having a "
Chas Budnick is a Bastard
" tag, and another year of
undertones
that I don't realize I'm writing. I think I got all the typos and repetition out, but if I didn't, be a pal and let me know. Cause knowing is half the battle.
G.I. JOOOOOOOOOE
!
Just when I think I'll run out of hilarious themes to assign you guys,
Hulu
adds more shows. To commemorate the Philadelphia Phillies' epic failure to defeat the Boston Red Sox in the World Series, you guys are each getting a clip from
It's Always Sunny In Philadelphia
. Warning: spoilers!
[Ed: note: no, not really.]
As for the draft, I think we can all agree that the highlight was being done in under two hours, despite 90 seconds being allotted for each pick. Bra-fucking-vo. Nothing any of you dopes did can top that.
The most pleasant surprise was how long it took before someone really reached for a rookie. Matt Wieters, deserving prospect at scarce position, was the only rookie taken until Gary and I grabbed Jason Motte and Tommy Hanson respectively in the 13th round. Take a look at the performance of the guys drafted up top in recent years (Dice-K, Alex Gordon, Jay Bruce) as opposed to those taken a little bit later (Josh Hamilton, Joey Votto and, ahem, Evan Longoria) and you'll see that spending significant draft dollars on those guys isn't really necessary.
The main side effect of our rookie teetotaling is that a lower caliber of veteran than usual was available at most picks. So few players from round 10 on were worthy of being drafted at their spot that I can't really blame anyone for taking, say, Joey Devine instead of someone else. What's the alternative? If you're choosing between five kinds of turds to eat, does it really matter? You're still eating a poop. In that sense, I find it hard to criticize too much. Not that I won't anyway. (Hater degree of difficulty:
General Absence Of Doumit-ish Picks
.)
Speaking of Ryan Doumit, let's jump right into Lehr's draft...
ALEX
(mugsnjugs)
Best picks:
Chien-Ming Wang (17), Jose Lopez (15), Raul Ibanez (21)
Worst picks:
Ryan Doumit (9), Brandon Morrow (12)
Official team video:
Looks, Brains, Wildcard
Alex is the wildcard. One might say that he thinks outside the box in keeper/drafting scenarios. But that would be wrong, since it implies that he would have thought about the draft at all. I'm not convinced he knew who he'd kept prior to the draft.
Considering that Lehr walks into these drafts ice cold, and considering that said attitude typically results in a lot of fuck-it picks and a lot of pure insanity, I think Alex did an uncommonly excellent job with his picks.
Pretty much every pick from Taylor Teagarden on was well-valued, if not entirely shrewd. I am particularly surprised that nobody picked up on Wang... not because he's primed for a keepable season on the mound, but because few people left on the board had a Cy Young pedigree. I know Lehr only did it because he's a Yankee, but considering the detritus on the board, even an accidental nice play is praiseworthy.
Not that Lehr was perfect across the board. I would have thought a guy going into the season with A-Rod on the DL might have grabbed free-falling Edwin Encarnacion at any point after #15. I would have stayed away from Brendan Morrow and his arm troubles and lack of job insecurity. But those are defensible strategic decisions.
No, the truly Anibalian blunder, bigger than any other in this draft, is Ryan Doumit. You may remember Doumit from "being picked up by Gary via free agency every May because he got sick of having zero catchers." What bothers me here isn't so much that Doumit's ceiling is lower than Jason Kendall's nutsack. It's that Lehr took Doumit not only over two catchers that outperformed him last year and likely will again (Chris Iannetta and Pablo Sandoval) but over his #13 pick, Taylor Teagarden, whose success would make Doumit completely worthless! Why take two catchers so early? Argh! Didn't Lehr also take two tight ends early on in the football draft?!? Oh, Lehr...
Bear in mind that if Gary had taken Doumit, I wouldn't be saying anything, because Gary, like the Cylons, has a plan. Know your receiver, as they say. But I know what Lehr was thinking about. Lehr was thinking about nipples. Or beer. Or anything besides fantasy baseball. Nutpunches for you, sir.
But my point is to praise with faint damning. Because unlike most years, that was just one pick. On the whole, excellent job. I don't know how good the actual team will be, but it will have been built competently for the first time in a while. If I were grading offseason decisions this year, keeping Grienke instead of using the guaranteed #1 overall pick on Manny Ramirez would on its own earn Lehr an F. But if you cook applesauce like cranberries, it tastes more like prunes than rhubarb does. So it's moot. Atypically high marks.
Have I ever graded a Lehr baseball draft higher than C+? I don't recall, but now I have!
GRADE
: B+
---
CHRIS
(BRAUNDO)
Best picks:
Manny Ramirez (6), Kelly Shoppach (17), Jeremy Hermida (23)
Worst picks:
Nick Swisher (17), Denard Span (13), Khalil Greene (21)
Official team video:
Day Man! Ah-AH-ahhhhhhhhh!
This goes to Chris because my invitation to join the league basically was "Hello, COME RIGHT IN..."
Obviously, I'm biased due to how proud I am of my
lil' brudder
. But for a first-time manager I think he did a nice job of keeping things under control. The first five picks all filled clear needs, and he got devent value after that. Landing Manny is a real coup. The Victorino pick is particularly nice; he is what Carl Crawford is only alleged to be, but comes cheaper. I liked the Shoppach/Baker/Weaver picks quite a lot. And Hermida as a post-hype sleeper is a nice pickup; if he actually gets it in gear, that's free money.
That said, there's quite a few rookie mistakes in the litter after that. I did not like the Derrek Lee move, given that his ceiling now is approximately what he did last year. One could spend a lower pick and get roughly the same production. I'm not fond of Denard Span's selection, as he's unlikely to play above his current level. It's not necessarily that they're bad players, just that one can do better. With those same 11/13 picks, would you rather get Pat Burrell and James Loney, or Lee and Span? At least the former pair has a higher ceiling.
He also punted closers, from the look of it. Which isn't a make-or-break decision, but given that quality closers were out there when Nick Swisher and Khalil Greene were taken, it wasn't really necessary. That said, Balfour/Okajima as set-up ERA insurance isn't the worst thing in the history of Western civilization. If Balfour stays healthy and continues his improbable, almost certainly steroid-driven run of success, he'd be a Lidge-type strikeout closer and a HUGE value.
Bottom line is the important parts, the early picks and SP depth, were executed nicely. Dan's team really underachieved last season; I see even better things happening now that Manny's added to the lineup.
TEAM GRADE
: B+
---
CHARLES
(No Talent Ass Clown!)
Best picks:
Stephen Drew (7), Clayton Kershaw (9), Justin Verlander (15), Matt LaPorta(16),
Shin-Soo Choo
(21) (not really, I just like any excuse to mention him)
Worst picks:
D.L. Burnett (8)
Official team video:
Charles
Charlie Loses His Mind
I don't see any huge coups here, just a lot of nice, solid picks. I'm amazed Charles can think on his feet in the middle of a 90-hour workweek. Simply registering "mildly retarded" would have sufficed. It makes mere competence that much more impressive.
I personally would have swung for the fences, Gary-style, given this roster's paucity up top. Apart from the excellent Kershaw/LaPorta picks, Charles mostly played it safe. A.J. Burnett instead of Francisco Liriano... Mark DeRosa instead of Carlos Zambrano... Jhonny Jhohhnhhhhhyh for a position already filled...
In fact, both DeRosa and Peralta are stuck behind other players. Insurance against almost certain Uggla/Drew FAILs is important, but at the expense of potential keepers like Tommy Hanson, Ian Stewart, Colby Rasmus et al? They were crying out, begging to be tossed into the Charles Mahle Fantasy Rejuvenation Program! And Charles ignored their cries, like so many of us who see those commercials about sending like $1 a year to Africa to feed an entire village, only to press the mute button or change the channel.
Apart from all that, I think Charles did pretty good. His snail-like pace towards the playoffs might even take him to 5th/6th place contention this year!
TEAM GRADE
: B
---
MATT
(Youklidean Geometry)
Best picks:
Francisco Liriano (8), Chris Iannetta (12), Torii Hunter (14),
Elijah Price
(23)
Worst picks:
Alex Rios (7)... come on people
Official team video:
Martina Martinez
Matt gets this for three reasons: because Green Man's decision to drop Martina Martinez mirrors Omar Minaya's decision to drop Pedro Martinez; because it mirrors the Mets' annual decision to let the last few games hit them in the face with a volleyball; and because I was ready to drop a deuce on Matt for having an underwhelming draft, when his quality performance hit me in the face like a volleyball.
While I don't see anything in Matt's draft that outweighs the also-Martina-like disposal of Manny Ramirez, and don't see Alex Rios justifying his draft position ever again, I do like Matt's work a lot more now than I did at the time. During the draft I felt like he was picking up scraps. Having looked at his work as a whole, however, you start to see high-value decisions.
I like where he took Liriano, and I thought he generally got value. He took a lot of guys who kind of exceeded their potential last year (Encarnacion, Ludwick, Dempster), but if they don't come back down to earth then those were all very nice pickups. Even the picks I didn't like that much (Milledge, Conor Jackson, Alex Rios, Gary Sheffield) have tremendous upside potential. He's strong, on the whole, at scarce positions (Iannetta, Pedroia, Young) and competitive in the others (Youk, Huff, Soriano, Rios, Ludwick, Hunter). The starting pitching looks to be pretty good, with Hamels/Oswalt/Liriano being one of the better combos out there. His closer situation could be better, but that can be addressed later on by cutting one of his 12 bench outfielders.
The ceiling on this team isn't all that high, but it's fairly likely to be met.
TEAM GRADE
: B
---
KABIR
(Golden Mauers)
Best picks:
David Ortiz (7), Brad Lidge (10), Vernon Wells (14), Brett Myers (16)
Worst picks:
Cliff Lee (8)
Official team video:
A Ton Of Acid + The Freak Show
Since the Phillies won, ruining Philadelphia's inferiority complex by actually winning a title, Kabir gets the best IASIP clips from the best episode: the one where they all try out for the Eagles.
And just as IASIP is a quietly excellent show, Kabir did a quietly excellent job last week. Love the Papi pick, obviously. The high-end selections after Cliff Lee (blech) are all strong (Volquez, Lidge, Dice-K, Beltre, Fuentes, Wells), adding to a lineup that already was. He's proper fucked at 2B, but the rest of the lineup, the rotation, and the closers are all well above average.
I really despise the Lee selection. Enough that I've docked his grade. Can't stand it. It's not like he reached... it's just painfully obvious he's not gonna put up those numbers again. I don't think it's a stretch to say that Cliff Lee is in the Zito/Hentgen Wing amongst Cy Young winners, and he was already on shaky ground fantasy-wise...
unsustainable
ERA, bizarro W/L numbers despite being on a shit team... and he was drafted basically at his ADP. Don't see that working out.
TEAM GRADE
: A-
---
JESSE
(Grady's Ladies)
Best picks:
Carlos Zambrano (12), Nelson Cruz (15), Ubaldo Jimenez (19)
Worst picks:
Oliver Perez (21), Ben Sheets (22)
Official team video:
Troll Toll
This video has absolutely nothing to do with Jesse's draft. But someone had to get it.
I really, really liked what Jesse did. I hated the Magglio pick (it's as uninspired as the Cliff Lee pick just behind it) and don't think a lot of Kerry Wood when he's not playing for a contract, but everything else between Magglio and Oliver Perez was excellent. And even then, the picks I dislike are either a matter of opinion (Magglio, Kerry) or in low-value slots (Perez, Sheets).
That said... his pitching relies on Scott Kazmir getting his groove back and the Mariners giving some damn run support to their starters. I think Jesse might have been better off grabbing a higher-profile starter prior to Bedard. That part of the team could really unravel... I dare say as badly as mine could. But that's a keeper issue more than a draft issue, since I like the Bedard pickup. It's Kaz and Felix who present the most cost-vs-value issues.
TEAM GRADE
: A-
---
CHAS
(BoyzInDaClitoralHood)
Best picks:
Roy Halladay (7), Alex Gordon (20), Kelvim Escobar (21)
Worst picks:
Carl Crawford (6), Rafael Furcal (8), picks 11-19
Official team video:
They Brought The Poop
Chas shat the bed. I almost gave him
Chas
Charles
Charlie Loses His Mind, because he must have lost his damn mind. Carl Crawford? Rafael Furcal? Chone Figgins?
FANTASY BASEBALL POISON
. (The whole video is great... but if you're impatient, jump to 2:24 and you'll see the random memory I thought of after I typed that.)
This was the only real black hole of the draft. As you can tell, I didn't like much of what Chas did at all. Every player he took between Halladay and Gordon was someone I was doing my best to avoid. At no point did Chas take someone that made me think "damn, I wanted him." Halladay and Gordon are the only ones.
The whole roster is shaky. He's got one player who will break 25 HR this year (Dye). The pitching is fine, but not much to sneeze at (especially if the Angels screw up). Chipper Jones is near-certain to miss an important month for Chas, .364 average be damned. He's got a stable of pitchers beyond Vazquez who could end up cut by May 1st, and even Vazquez requires that you tolerate a 5-ish ERA and replacement-level WHIP from him. His closers are almost as awful as mine! I just don't get what he was doing.
TEAM GRADE
: D+
---
JEFF
(Marmol AIDS)
Best picks:
Fausto Carmona (15), Milton Bradley (16), Chris Carpenter (18), Frank Francisco (20)
Worst picks:
Carlos Marmol (10), B.J. Ryan (12), Francisco Cordero (14)
Official team video:
Script
The way Charlie wrote that script is the way I drafted. Brilliant and stupid. The idea was right, and the execution was totally and utterly wrong.
While I'm fairly happy with who I came away with, it's in an "I got my guys" sense, not a "wow my team is stacked" sense. I missed an opportunity to really nail it.
Every draft, I have a pick that totally screws me up. I look over my choices and hate them. But I don't want to grab anyone too early either. This year, Marmol was that pick. I ran out of time and just went with him, figuring he at least had a CHANCE to be a premier, keepable closer. He isn't even going to be a shitty closer, because he's just a setup man. Damn that damnable World Baseball Classic!
Marmol set in motion a sequence of picks that can be described charitably as a "complete and fucking utter shitshow." B.J. "BJ" Ryan is about to be demoted to the middle innings for throwing 84-mph "fastballs," in favor of someone who's just a
fuck
. Cordero had surgery in the offseason and only yesterday hit 90 on the gun. Even Francisco is no lock to be the closer, now that C.J. Wilson is apparently healthy. Amazing that I criticized Chris for punting saves when ALL FOUR of my "closers" are total garbage.
Making matters worse, I had excellent alternatives ON MY BOARD that I elected not to take: Bobby Jenks for Marmol, Brian Fuentes for Ryan, Heath Bell for Cordero. I would make those trades in a damn heartbeat. It's just inexcusable that I didn't do thorough enough research on that front.
From there, I mishandled my bench. I didn't feel the need to invest heavily in bench players by position... I decided I'd go with whoever was most undervalued on the board. No hitter, not one, was undervalued between round 9 and round 16. So I didn't take one. Value-wise, it was the right thing, but I ended up with a bunch of properly-valued DHs on my bench (Giambi, Thome, Hafner) and no reason to play any of them. In fact, I've already cut two of them. So I'm pretty unhappy about that situation as well. Delmon Young at least is a dreadfully underrated post-hype sleeper candidate.
On the plus side, I'm very happy with my work in the early rounds, apart from Marmol. My goals:
* one of S. Drew/Hardy
* one of Liriano/Gallardo
* one of Kershaw/Scherzer
* Tommy Hanson
Nailed them all. Very happy about that.
After then fucking up my closer situation, I turned to my sleeper list and crossed off a bunch in a row: from Fausto Carmona all the way to Frank Francisco I got exactly who I wanted pre-draft for the price I was willing to pay. Carmona and Chris Carpenter are both KILLING it this spring, so I'm glad nobody else cared to jump on those two, especially since I didn't want to spend my 9/10/11 picks on the likes of Ervin Santana and (ahem) Cliff Lee when I could take a shot on Gallardo, Scherzer, and those types.
Still, despite landing nearly every one of my targets (damn you, affordable Gil Meche!), things look grim. The highest 2008 innings pitched count amongst my starters is a whopping 174 IP from Josh Beckett. Likewise, my starters had a total MLB record of 22-31 last year. Thanks to many, many major injuries, my seven super-talented pitchers pitched like two Royals. I could conceivably cut every pitcher on this list besides Gallardo and Beckett. Or I could end up with Gallardo, Scherzer, Hanson and Buchholz all living up to their potential, Carmona and Carpenter returning to form, and Beckett alternating back to Awesome Pitcher as he always does in odd-numbered years. This could be the best rotation in the league or the worst it's ever seen.
My team is still good enough to get a playoff bye and lose, like last year. I'm glad I swung for the fences pitching-wise. But my fuckups with the closer corps and the extreme risk I took with my starters (combined with having to give each and every one of them time before deciding to cut them) makes me very, very nervous.
TEAM GRADE
: C+
---
GARY
(D Price Is Wright)
Best picks:
Chad Billingsley (9), Matt Lindstrom (17), Mat Gamel (23)
Worst picks:
Randy Johnson (19) but not really
Official team video:
Charlie Goes America All Over Everybody's Asses
Gary just went America all over our asses.
Jason Motte came too early, given the collective tendency this year to not know who rookies are. Randy Johnson won't be good enough to stick it out on the roster. Jordan Zimmermann pitches for one of the most pathetic teams in history. That is literally everything bad that I can say about what Gary did.
TEAM GRADE
: A+
---
FRANK
(that old cack magic)
Best picks:
Adrian Gonzalez (6), Matt Wieters (7), Rich Harden (10), the Dukes-Werth-Kuroda-Lyon run (18-21)
Worst picks:
Chad Qualls (16), Cristian Guzman (23)
Official team video:
That's politics, bitch!
I don't know why Frank gets this. Maybe for winning last year?
Frank did pretty okay. If nothing else, he gobbled up a big bag of Wieters. But even that was at the expense of offense. His offense still looks pretty awful; Hart/Dukes/Ethier isn't gonna cut it, not with the Jeter/Roberts pair at the scarce positions. The starting pitching is pretty good, and could be pretty great depending on Harden (surprise!) and Harang. The closers... not so much, although the Fruitbat's presence should normalize things back there.
(Did anyone else realize Mariano has never won a Cy Young? I'm no sympathizer but given that we, as a society, DO award the Cy Young to closers, how can the greatest closer in the history of closing things not have one? And of course, how do Barry Zito and Cliff Lee have one, and he doesn't? Bizarre.)
As you may have noticed by my substantial digression, I haven't got a lot to say either way about Frank's work. The roster was decent pre-draft, and is decent now. Making the leap again will depend heavily on Travis Snider and Chris Young stepping up to help Frank's outfield. Most of us have good outfielders, and Frank hasn't got anyone better than Corey "If You Even THINK The Phrase 'Sunglasses At Night,' I'll Cut You" Hart. For OF to be anything other than a glaring weakness, those two younguns need to get it done.
TEAM GRADE
: B-
---
PREDICTIONS
I think I'll predict
Gary
to win this year. I never do, and I always should because whoever I pick ends up tanking to shit, and he looks awfully scary to me right now. But on the other hand, leave it to Gary to defy my reverse logic and win it all, just to piss me off by making my prediction come true. Up yours, Gary... up yours indeed.
If you guys would like to predict where my predictions will surely go wrong, drop a note below...
Labels: baseball, chas budnick is a bastard, fantasy, video